SURF

Learn how to "pop up "to your feet on a soft surf board ideal for
beginners and ride those perfect waves all the way up the beach.
Hard boards are also available so we cater for all skill levels.

BODYBOARD

Ideal for beginners, but great fun in all conditions no matter how big
or small the waves. Lying full length on a body board
(shorter than a surf board) using flippers to propel yourself along;
you will adore the sensation of "gliding" along in the sea and maybe
you can learn a few "tricks" along the way.

SUP

Standing up on an enormous board, paddling along in the sea,
you can discover the beautiful Breton coastlines and wildlife
in the Brest area.
Duration: 1h30

1 lesson 35 €
3 lessons 90 €
5 lessons 135 €

includes equipment, maximum of 8 people,
ideal for beginners through to intermediate levels

Duration: 1h30

1 lesson 35 €
3 lessons 75 €

Maximum of 12 persons

Duration 1h30

1 lesson 70 €
2 lessons 120 €

includes equipment (or you can use your own),
caters for beginners through to advanced surfers.
One on one coaching is one of the best ways to learn this sport.

Duration: 1h30

10 lessons 200 €
20 lessons 350 €

lessons during term time.

Duration: 1h30

10 lessons 185 €
20 lessons 320 €

a group lesson focusing on improving your technique.
Suitable for intermediate to advanced surfers.
3 SURFING LOCATIONS – 3 TYPES OF WAVES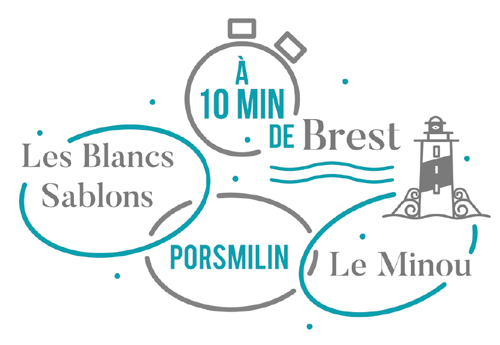 The surf school is situated just 10 mins from Brest.
Depending upon the weather conditions the surf school offers three different surf locations: "Porsmilin", "Le Minou" and "Les Blancs Sablons". You will learn to surf, body board or use a stand-up-board in a convivial, fun atmosphere, learning at your own pace.
PORSMILIN: situated by the village of Locmaria-Plouzané; the beach is sheltered from currents and big waves so it is an ideal beach to learn the basics of surfing or body-boarding.
LE MINOU: situated at Plouzané (next to the entrance to Brest's habour) this beach offers ideal waves for beginners.
LES BLANCS SABLONS: situated at Conquet; this beach, due to its size (2.5km long) offers the best conditions for surfing in small group.